Our Church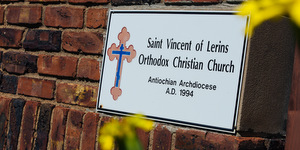 Please feel free to visit us for Orthodox worship within the Western tradition. Sunday Mass is at 10:00 a.m. Weekday and Feast Day service times may vary, please check this weeks schedule or call (402) 551-9721 for information.

St Vincent's offers the St Monica's Guild, our Antiochian Women's organization; Sunday School and our own St. Honoratus Bookstore.
Facebook Feed
St Vincent Orthodox Church shared Pan-Orthodox Christian Council of Omaha's event. ... See MoreSee Less
Pan-Orthodox church school families picnic
August 27, 2017, 1:00pm
Please join us for a Pan-Orthodox church school family potluck picnic. Picnic pad #3 at Elmwood Park has been reserved for our use. There is a grill and picnic tables available and the location is close to the playground. Please bring a main dish for your family and a side dish and/or drink to share. Please bring outdoor games and balls if you'd like and any charcoal, paper cups, plates and napkins would be greatly appreciated. There is also a public pool with a spray ground located on site if anyone would like to swim.