Clergy
Father Theodore Eklund (Rector)
Fr Theodore Eklund Has been the priest at St Vincent since 2004. He was ordained at St George Cathedral on the feast day of St Theodore of Canterbury. Raised as an Episcopalian, Fr Theodore converted and was made a sub-Deacon in 1994. He served at St Mark's Orthodox Parish, Denver from that time until his ordination by His Grace, Bp Basil (Essey). He and his wife, Kh Susan, reside in the Benson area of Omaha.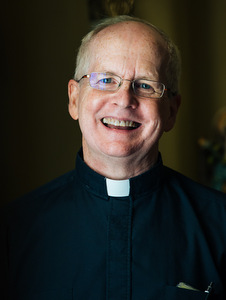 Deacon Nicholas Tilden
Shamassy Janet and Deacon Nicholas moved to Nebraska from Chicago in 1994 and started attending St. Vincent's at that time. In June, 2005 Deacon Nicholas was ordained to the Holy Diaconate and was assigned to serve at St. Vincent's by His Grace, Bishop Basil. He continues to serve as Deacon at St. Vincent's Church. They have 2 children, Jonathan and Philip.