Our Church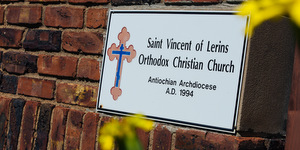 Please feel free to visit us for Orthodox worship within the Western tradition. Sunday Mass is at 10:00 a.m. Weekday and Feast Day service times may vary, please check this weeks schedule or call (402) 551-9721 for information.

St Vincent's offers the St Monica's Guild, our Antiochian Women's organization; Sunday School and our own St. Honoratus Bookstore.
Facebook Feed
St Vincent Orthodox Church shared a post. ... See MoreSee Less
Excerpts from Mere Christianity....author CS Lewis... If there was a controlling power outside the universe, it could not show itself to us as one of the facts inside the universe-no more than the architect of a house could actually be a wall or staircase or fireplace in that house. The only way in which we could expect it to show itself would be inside ourselves as an influence or a command trying to get us to behave in a certain way...... All I have got to is a Something which is directing the universe, and which appears in me as a law urging me to do right and making me feel responsible and uncomfortable when I do wrong.....
St Vincent Orthodox Church shared a post. ... See MoreSee Less
"Men who are leading a spiritual life see by the eyes of their heart how the Devil lays his snares, how the angels guide us, and how the Lord, in His Sovereign power, allows the temptations, and how He comforts." Saint John of Kronstadt